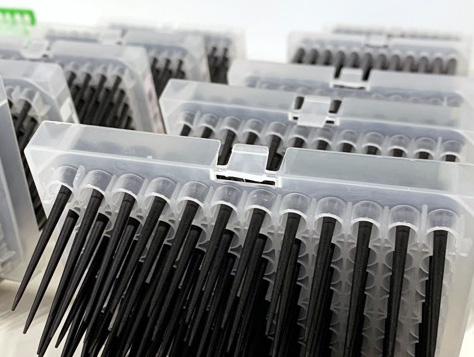 When pipettes were invented in the 19th century by Luis Pasteur, little thought was given to the environment and even less thought was given to laboratory consumables like pipette tips. But as laboratory research testing increases with the onset of new viruses, like COVID-19, and ever-changing government regulations are signed into law, everything laboratories do now is amplified. This includes what these labs do for the environment. To demonstrate Grenova's impact on the lab industry and the environment, our team partnered with third party researchers to study how technology created by Grenova to wash and reuse pipette tips can reduce the carbon footprint of manufactured pipette tips. 
It is widely reported that scientific labs are responsible for generating, on average, 5.5 million metric tons of plastic waste every year. This is the equivalent weight of 220 Statue of Liberty's. This unfathomable amount of plastic waste generated from the lab industry often begins with the disposing of a single 96-count rack of pipette tips weighing 125 grams. These tips are typically manufactured by large companies overseas that use polypropylene, a heat resistant and durable plastic, for the majority of their plastic production. This plastic not only takes 20-30 years to fully decompose, but for a 96-ct rack of standard pipette tips, it produces almost four pounds of carbon dioxide into the atmosphere. 
Implications of Polypropylene's Carbon Footprint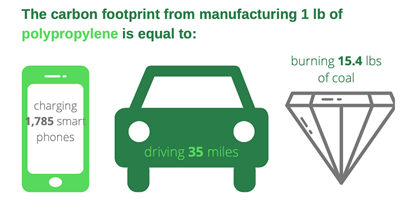 Based on Grenova's research, today's laboratories now have a deeper understanding of the impact of single use pipette tips on the environment. In addition, Grenova's research provides laboratories with greater visibility into how their purchase of pipette tip washing technology can dramatically decrease their carbon footprint by washing and reusing polypropylene-made pipette tips.  
A standard cleaning cycle with a Grenova Tipnovus and Tipnovus Mini is performed in 10–minutes. During this time, the Tipnovus uses 920 watts of electricity and the Tipnovus Mini uses 690 watts. The machines only generate 0.24 (109 g) and 0.18 pounds (81 g) of CO2 respectively each wash cycle. In comparison, research shows that 3.9 lbs (1.8 kg) of CO2 are generated when disposing of a 96-ct rack of pipette tips weighing 125 grams. The TipNovus and the TipNovus Mini decrease a lab's carbon footprint from pipette tips by 93% and 95% with each wash respectively, resulting in significantly less carbon released into the earth's atmosphere.  
TipNovus Decreases Polypropylene Carbon Footprint by Over 3 Lbs CO2 Per Rack