After working in the laboratory consumables market for eight years, Ali Safavi, founder and CEO of Grenova Solutions, realized that the industry would not be able to sustain itself indefinitely. Working as a laboratory engineer, Safavi took notice of the sheer amount of plastic waste accumulating around him each day. He quickly saw that pipette tips, which he previously considered small and easily dispensable, were to blame for a sizable portion of the laboratory plastic waste created. There was no way to reuse pipette tips, and recycling these products was often costly. Safavi explains, "I worked in the industry for quite some time, and during that time I discovered that there is a hole in the laboratory consumables market. It's a linear, not cyclical model; it's not sustainable and it won't last forever. For me, I found that plastic consumables were being discarded after a single use, and I saw that there was no way that the industry could sustain itself forever." 
This linear model posed a problem for the future of not just the laboratory consumables market, but also for laboratories, research centers, and clinical testing centers who rely on these single-use plastic products. As countries are increasingly taxed on their plastic usage and carbon footprint, Safavi saw that an immediate solution was needed to decrease plastic waste from laboratory consumables.  
Confident in his mission, Safavi developed a proposal and set out to acquire funding to build and design a device and an environmentally friendly reagent that could wash and dry plastic pipette tips. However, many potential investors didn't view the need to address climate concerns as an immediate problem. A major shift in mindset was required to decrease the use of single-use tips in the laboratory, because many scientists doubted a machine's ability to eliminate carryover between samples. However, two years and 48 investor propositions later, Safavi's idea to transform the world of laboratory consumables became a reality.  
In May of 2014, Ali Safavi founded Grenova, a biotechnology company dedicated to washing and reusing plastic pipette tips. "If I said I wasn't nervous about starting up Grenova, I'd be lying," admits Safavi. "I was definitely nervous about stepping outside of my comfort zone, but at the same time, I felt like if I didn't pursue it, I would have spent the rest of my life wondering about what could have been." 
Thankfully, Safavi's decision to found Grenova was a good one. Later that year, a certified clinical laboratory accepted his prototype and found that there was no carryover between different samples after washing  plastic tips. Today, Grenova manufactures machines for CLIA- and CAP- approved labs on multiple assays around the world. The company has steadily grown over the years and has doubled in size in 2020 alone.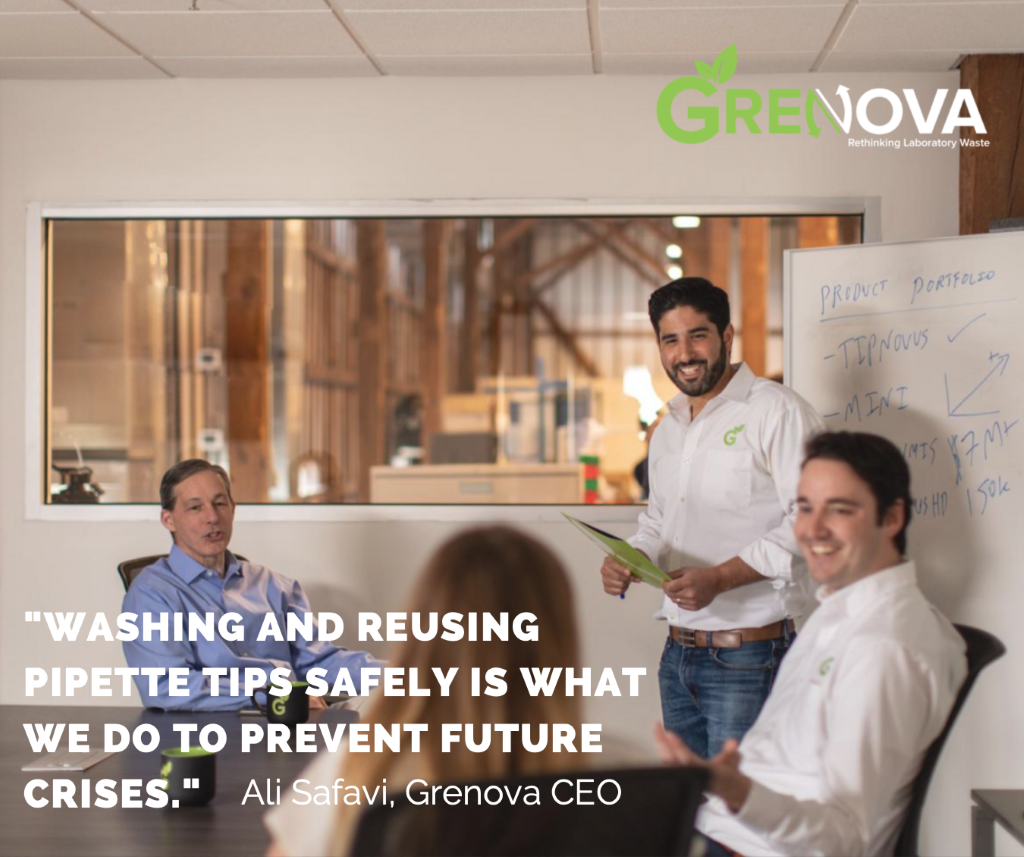 Throughout Grenova's journey, Safavi has shown a firm commitment to helping others find ways to make their own surroundings environmentally friendly as well. His drive to address environmental concerns in the laboratory consumables market and beyond has distinguished Safavi as a visionary leader working to improve sustainability throughout healthcare. To spread this message he has delivered inspiring TED Talks, published whitepapers and case studies, advocated for more research in the lab industry, and mentored others working to make labs greener. "Pay attention to your daily operations," encourages Safavi. "If you see something that is disposed of after one use, ask the question: why should it be that way? Is there a better way? Find your pipette tip, and if you don't like how it's being handled, create your own solution."